Natural makeup is not only easy to do, it also makes you look so much like yourself. A lot of people think that natural looking makeup means no makeup at all. What it really means is using lesser makeup products to enhance your best features. Since good skin plays a big part in making makeup look better and preventing the overuse of products, it is important to have a daily routine of cleansing, toning and moisturising. Add to this the use of sunscreen, having a balanced diet and maintaining a good sleeping cycle. Let's decode natural makeup.
1. Know your face:
Knowing your face well and embracing your every feature is half the battle won. Let me elaborate on this one. Your eyes, for instance, are they big or hooded, slanting upwards or downwards, etc.? When you wear the winged eyeliner, does the wing disappear under the hood of your eyelid? If it is disappearing, then make the wing at an angle that doesn't get covered by the fold of your eyelid when the eye is open. I have hooded eyes and I love the winged eyeliner look and a short wing suits my face. The thing about winged eyeliner is that you can still achieve a natural look with it so don't start avoiding it if you like it. With the old fashioned hit and trial method, you will know what type of eyeliner looks best on you. Remember that all those tutorials you see online, the artists have learned by experimenting and practicing on themselves before jumping in front of the camera to teach the rest of the world. So, don't get bogged down by how easy and effortless everything looks in videos while you are struggling just to get a steady hand for an eyeliner.
2. Get some colour on your eyes:
As I said, don't just put away your beautiful colourful palettes. You can achieve the most flattering, yet natural look with the colours of your choice especially on your eyes. Look at the picture below – the eyes have a combination of pink, gold, brown and black. Yes, that's a whole lot of colours and makeup on those eyes. Now scroll further down and look at the picture of the entire face. Do you see how the eyes are making the entire face glow? It shows that the right kind of eye makeup, in spite of using a variety of colours, can achieve a naturally beautiful look.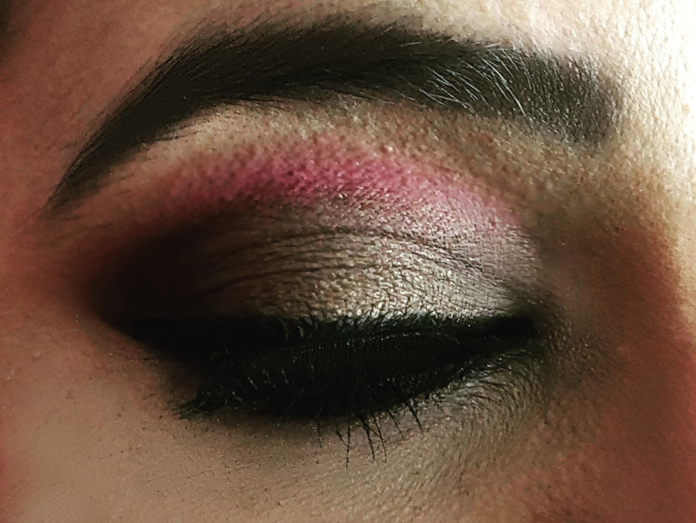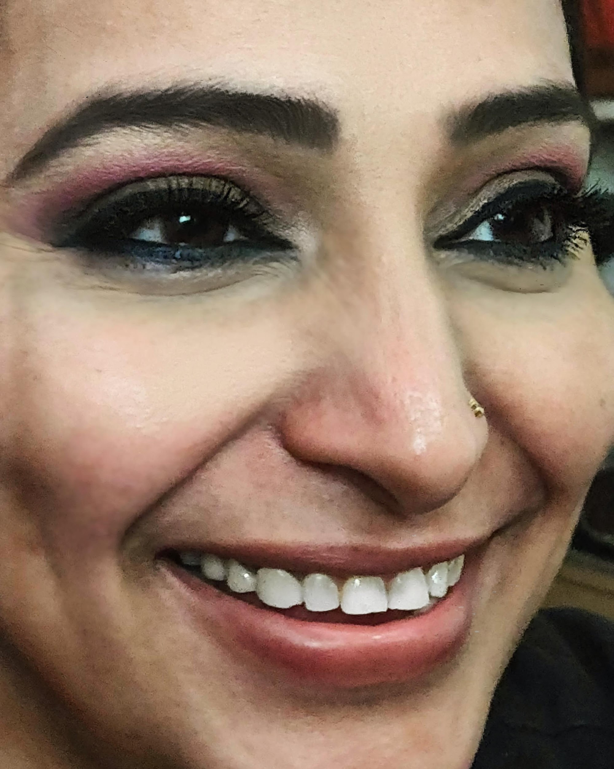 3. Beware of Raccoon eyes:
If you have dark circles then do not ignore your corrector and concealer before doing up your eyes. Eye makeup, like the one shown in the image above, with dark circles showing will make you look like a raccoon, only not as cute!
4. Use a foundation:
It will give you good coverage to cover any blemishes or pigmentation. People falter here by using a shade that is 2-3 shades lighter than their skin tone. The incorrect shade of foundation, especially one that's too light, will make you look unnatural (mostly grey), and when the foundation mixes with the natural oils of the skin, which it does in less than an hour of application, it will start making you look not only overdone but also cakey and pale. Like I mentioned before, embrace every feature on your face and that includes your skin tone.
5. Go easy on colours for the rest of your face:
That includes primarily, the lips and cheeks. If you're highlighting your eyes then on the lips apply either a tinted lip gloss or a nude lip colour (one that matches the colour of your own lips) and a hint of blush on your cheeks. Contour your face only if you know how to do it. When done right, contouring can bring out your beautiful features to the foreground, but if done incorrectly, like when trying to bring out the cheekbones, it can make you look older with drooping cheeks.
6. Use a touch of highlighter:
Just a tad bit of highlighter on your cheeks is good enough for any party. Okay, try this, let the tip of your pinkie finger press lightly on a highlighter and then brush it on your cheekbones. That's it. Don't go overboard with the highlighter if you want to stick to the natural look. Look at the image below and notice everything about the face. Now observe the subtle highlights on the cheekbones and on the nose. Not over the top, right? And yet, they are enough to accentuate the features.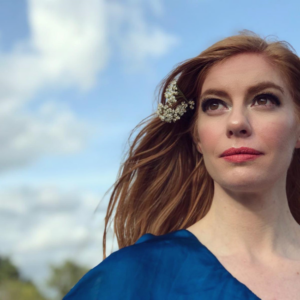 7. Finishing up:
Like the wave of a magic wand, pick up your powder brush, dip it in some finishing powder and dust it on your face. Voila, you're now ready to rock the look!
You see, the mantra here is, 'less is more', which I am sure you would have heard a lot of times, but one can get it right only by balancing 'less' and 'more'. For example, if there is a boost of colours on your eyes, use less colourful products on your lips and your makeup will be a far cry from the so-called 'too much makeup' look. The more muted it is, the more natural it will look.

Read another article by Uravashi Bhardwaj
---
Share
---
Picture Credit : Urvashi Bhardwaj
Cover Photo by Jazmin Quaynor on Unsplash