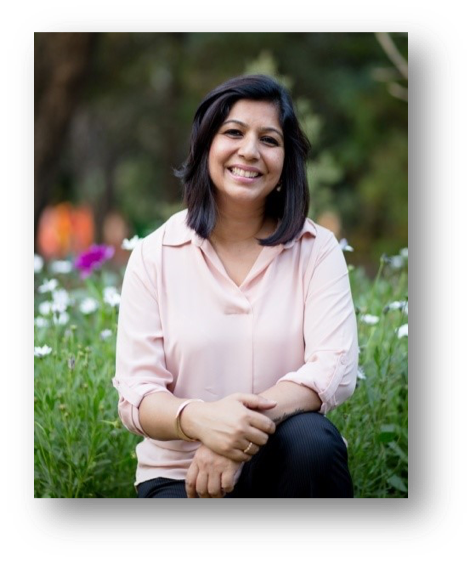 Author Feature
Payal Mittal Talwar wears her many hats with great aplomb. The author of 'Kanta Bai Pvt Ltd' and 'Me and My Middle Age'; co-founder of WINGS Team; Certified NLP Trainer and Life Coach; this 'green warrior' knows more than a thing or two about mindful living and the art of work-life balance.
A work from home mom, she chooses to look at the humour in everything that's around her. Battling the challenges of raising two kids while running her entrepreneurial venture, and managing home and hearth as an Army wife has ensured a steady supply of stories for the woman who refuses to take herself too seriously.
Her book 'Kanta Bai Pvt. Ltd. is replete with incidents and anecdotes from her life. Featuring her husband, kids, the dog and her friends, she writes in a simple and conversational style that makes it easy for the reader to connect with her, and more importantly, identify with her. Her second book, 'Me And My Middle Age' is a continuation of her tongue-in-cheek look at herself and life. A strong believer that women should take time out for themselves and follow their passion, she tells them not to hesitate and just take that first step.
Coffee and Conversations spoke to Payal Mittal Talwar to find out more about her funny bone.

What is your current state of mind?
Peaceful and purposeful with a bit of concern. Also, am very optimistic that this situation will lead to overall betterment.
When and where were you happiest?
I am basically a happy person – any place with peace, good books, opportunity to follow my passion (my work) and open spaces makes me feel happy – so I guess All fauji stations have been happy for me.
What is your greatest fear?
Losing my health – mobility – having to be physically dependant on anyone. Rest I think I'll be able to handle it all.
Which word or phrase do you most overuse?
Actually, I can.
What is your most treasured possession?
My health/family.
What is your greatest regret?
None, really.
On what occasion do you lie?
Ha ha – just twist the truth a bit – with kids, husband, friends – to make my point maybe 😉.
What do you consider your greatest achievement?
Being able to touch lives through my work.
If you could change one thing about yourself, what would it be?
To have more belief in self.
What talent would you most like to have?
Singing. Can't hold a tune – with handles!
What do you most value in your partner?
His patience and knowledge – seems to be an encyclopaedia.
Who are the women who inspire you?
So many – in fact, there's something about very woman that I meet that I find worth emulating.
What do you consider the most overrated virtue?
'Being religious'- if that's a virtue …or 'being politically correct'.
Where would you like to live?
Somewhere cool, pleasant – lots of nature. Actually, pretty much the place I'm in right now – with a bit more of 'life'!
Which song always picks you up?
Am a Bollywood aficionado, sans the knowledge – love all Hindi numbers.
Which is the one book you wish you had written?
Any PG Wodehouse/ Ashwin Sanghi book or even Andy Andrews'.
Which dish reminds you of your childhood?
Channa – the way my mom makes it. Yummm!
How would you like to be remembered?
As a person, people wanted to be – full of laughter, energy, and compassion.
If you could have a conversation with anyone in the world, who would it be?
All the people who selflessly do so much – what makes them tick/or the self-made people – how did they get the self-belief to do what they did.
How do you like your coffee?
With conversations which make you think and smile…like this one! Thank you.
---
Share
---
Interviewed By Rashmi B. Nayar