Succulent, spicy, tangy and grilled to perfection this lusciously massaged Salmon with tequila, chili and lemon are not only healthy but are also brimming with flavour. It can be enjoyed with naan or tandoori roti, and for the low carb option on a bed of salad.

Ingredients :
700 gms skinless salmon fillets cut into large chunks
1/2 Tbsp Kashmiri red chili powder (more if you like to turn on the heat)
1/2 tsp paprika
1/3 tsp turmeric
1 tsp cumin powder
1 Tbsp coriander powder
1/2 tsp garam masala
1 heaped Tbsp garlic paste
1 heaped tsp ginger paste
1 Tbsp oil
1 tsp Worcestershire sauce
1 Tbsp finely chopped coriander
1 Tbsp finely chopped mint
1 green chili
3-4 Tbsp very thick Greek yogurt
Pink Salt to taste
4-5 skewers pre-soaked in water
1 red onion cut into big chunks
1 green capsicum cut into big chunks
Melted butter to baste with

Garnish :
1/2 lemon round
Few Tbsp tequila
A sprinkle of red chili flakes

Instructions :
Cut the fillets of fish into 2 inches sized thick chunks.
Wash and pat dry the fish.
In a large bowl mix in the Kashmiri red chili powder, paprika, turmeric, cumin, coriander, garam masala, ginger paste, garlic paste, oil, and Worcestershire sauce.
Blitz the fresh coriander, mint and yogurt and mix well into this bowl.
Add pink salt to taste.
Add the salmon pieces mix well, cover and allow to marinate for one to two hours.
Thread up your fish chunks alternately with red onion and capsicum chunks.
Line a baking tray with parchment paper and place the skewers onto the tray.
Bake in 400-degree preheated oven – 10 minutes on each side.
Baste with melted butter and broil for the last 1-2 minutes.
Remove and plate up.
Dip the lemon into the tequila and rub with a squeeze over each skewer.
Sprinkle chili flakes over them and serve.
Side salad to go with Salmon Tikka :
1 red onion cut into thin rings
1/2 carrot julienned
1/3 bunch coriander chopped roughly
1/4 cup yogurt whisked
1/4 teaspoon minced garlic
salt and pepper to taste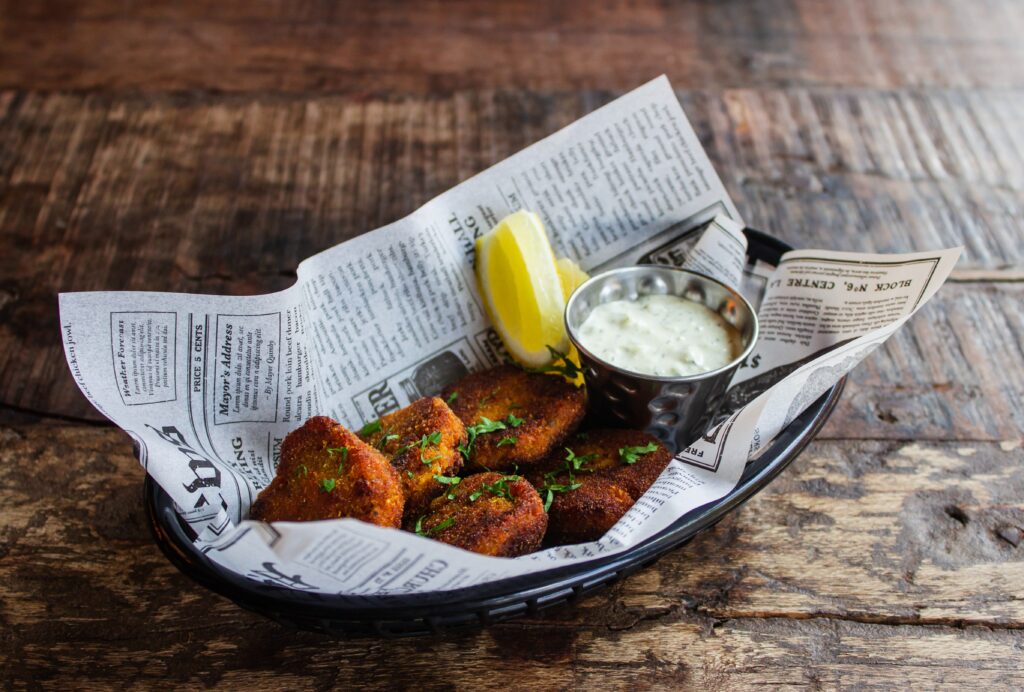 Pour the above yogurt dressing over this deelish bed of onion, carrot and coriander salad.



Get more recipe by Seema Bhatia
---
Share
---



Photo by Louis Hansel on Unsplash.com