The first thing on my list of things to do in Vietnam was definitely NOT to have egg coffee! It just sounded so unappetizing. But that was before I eventually did try it – which was on our last day there – and I kicked myself for not having done it earlier. It was that good. Even now, when I close my eyes and imagine the creamy, sweet goodness of that amazing cup-a-joe, I end up craving more.
The Vietnamese love their coffee – or ca phe – you will see almost everyone on the streets of Ho Chi Minh City or Hanoi walking around, sipping from their large plastic containers. More often than not it will be a strong decoction poured over ice which slowly keeps diluting it, mostly black but sometimes with milk or rather condensed milk.
As for egg coffee, I was lucky enough to attend a cooking class in Hanoi where this was one of the recipes we learned. Apple, our teacher, is a young girl whose cooking class is rated the best in Hanoi. She makes this delicious dessert coffee seem as easy as 1-2-3. All it takes is egg yolks whisked slowly with a hand blender while you keep adding condensed milk to it, little by little. The process takes about 10 to 15 minutes. Then you spoon it over some really strong black coffee. To enjoy it best, you have to dig your spoon deep into your cup getting a bit of the coffee with a dollop of the egg-condensed milk whip. Some call it Vietnam's answer to tiramisu, though I do not see too many Italians agreeing.
The story of egg coffee – or ca phe trung – dates back to the 1940s. It was during the French War when Vietnam was fighting the French colonisers. War obviously is a time of shortages and milk was scarce. So, the highly inventive bartender at the Sofitel Legend Metropole Hotel in Hanoi, Nguyen Van Giang concocted this path-breaking after-dinner cup of ambrosia using whipped egg yolk and sugar. Soon, it became a rage and the rest, as they say, is history.
If you want a taste of history, you have to go to Cafe Giang where the original inventor's son serves the famous coffee, which has only become better over the decades. He has no problem with copy-cats selling his father's egg coffee all over Hanoi because he has a secret ingredient that no one can replicate. However, if you want to try egg coffee as close to the original as possible, here is a recipe for you.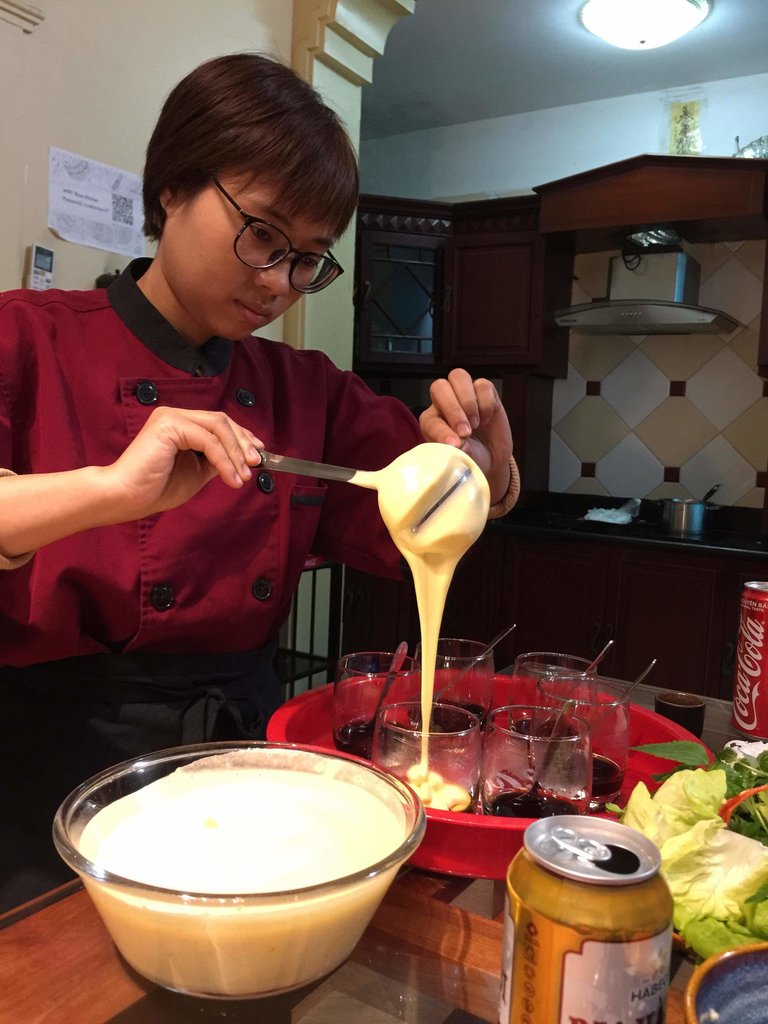 Egg Coffee or Ca Phe Trung
Ingredients:
Egg yolk – 1
Condensed milk – 4tbsp
Strong black coffee – 1 cup
Method:
Whisk the egg yolk with a hand blender.
Slowly add the condensed milk little by little.
Keep whisking till the mixture almost doubles in volume and is nice and silky.
Divide the black coffee into two cups.
Spoon the egg mixture over the coffee. Let it float on top.
Enjoy hot or cold.
Tip: If you want, you can also add some vanilla essence to cover any eggy smell, though generally there is none.



Read other article by Soni Sangwan
---
Share
---
Photo by Anna Tukhfatullina Food Photographer/Stylist on Unsplash